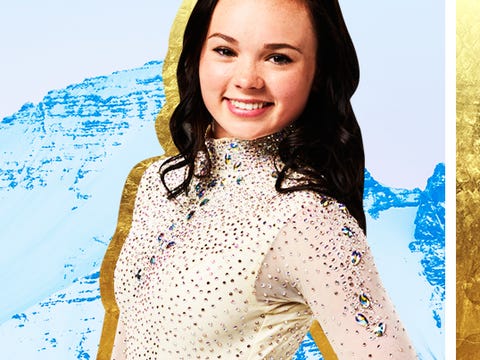 USOC/NBC OLYMPICS/GETTY IMAGES; DESIGN BY KATIE BUCKLEITNER
12 Things to Know About Mariah Bell, the Team USA Figure Skater With a Disney Princess Bloodline
Ahead of the 2018 Winter Olympics, get to know Team USA's best athletes. And just a heads up — Mariah and her boyfriend are #SkatingBae goals.
But her breakout moment was when she won the bronze medal at the U.S. Championships in January 2017, earning her a spot on the Four Continents and World teams. Although she ended the season with a disappointing 12th place at the 2017 World Championships, the rising star continues to prepare for what she hopes will be her Olympic debut at PyeongChang, South Korea. Read on for everything you need to know about Mariah.
1. Mariah began skating at 3 years old thanks to her older sister, Morgan. Morgan, 26, began skating at 6 years old and started competing at 8. "Mariah was a rink rat," Morgan told the Omaha World-Herald. "She was always there [to watch me], so mom put her in group lessons at 3." Mariah explained to U.S. Figure Skating: "My mom said it was easier to put me in skates than chase me around."
Morgan, who has since retired from competitive skating, now plays Anna from Frozen on Disney On Ice's Dream Big show. It's unclear whether Mariah has plans to join her if/when she hangs up her competitive skates, but she's certainly got a Disney-worthy smile going!
2. But if Mariah was going to be a Disney princess, she's surely be Ariel. She has a thing for mermaids, you see.
3. Also thanks to her sister, she can ride a unicycle. She told U.S. Figure Skating she learned when she was 12 because her sister knew how to ride one — and she then got a unicycle herself as a birthday gift that year. It took her about 6 months to get the hang of it.
4. Mariah used a self-written song to convince her parents to move her and her sister from Texas to Colorado so they could both train with a new coach. And she sang it until the lyrics sunk in, apparently. (Morgan, on the other hand, created a Powerpoint outlining reasons why the family should move there.) Mariah's mom ended up moving with the sisters, while their dad stayed in Texas to work, visiting his family a few weekends each month. He eventually joined them in Colorado, but Mariah then left the state and her family in 2016 to train in California.
5. She attends the University of Colorado in Colorado Springs. To accommodate her hectic skating schedule, though, she only takes on class per semester. She's interested in studying psychology.
6. She trains with fellow Olympic skater Ashley Wagner; Both are coached by renowned figure skating coach Rafael Arutyunyan. "You have no idea what it's going to be like bringing another female competitor into the rink. I didn't know her that well before she started working with Raf. I was a little bit anxious," Wagner told Excelle Sports. "[But Mariah] has so much positive energy, and coming into the rink every single day and having her there has been really great for me. She really pushes me."
In an interview with Cosmopolitan.com, Mariah added that she views Ashley as her "other big sister."
7. But they aren't competitive with each other — nor does Mariah get competitive with any of her peers. "You can only control what you can control," Mariah told Cosmopolitan.com. "Even though it's a sport where you are [scored] against other people, it's not how I view it — I'm competing against myself and what I want to improve on."
8. Her cheat food is donuts. Great choice!
9. Mariah is dating French figure skater Romain Ponsart, and they're cute AF. The couple celebrated their one year anniversary together in February. Though he's not competing in the 2018 Olympics, you might find him in the crowd, rooting for Mariah.
P.S. he ties her skates for her 😢 so cute!!
10. But there's another man in her life: a guinea pig named Charlie. And he is PRECIOUS.
11. Mariah is an avid paddleboarder. She and Romain live together in Long Beach, California, near where they train. "We're at the rink from 8:30 a.m. to 3:30 p.m. every day, and after that I'll go to the beach and paddleboard," Mariah told Cosmopolitan.com. "It's really important [for me] that when I'm away from the rink, I'm done for the day."
12. And if her life story got turned into a movie, Mariah says she'd want (Disney princess) Emma Watson to play her. There really is a resemblance, once you stop to think about it!
Additional reporting by Eileen Reslen.

To learn more, visit teamusa.org. The Winter Olympics will air live, starting Feb 8th.
http://www.cosmopolitan.com/entertainment/celebs/a13793563/mariah-bell-figure-skater-olympics/